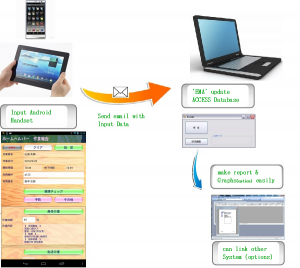 This is a system-set of Android application, Windows PC application and access database.
It is simple constitution and high versatility. It is most suitable for a report of outside business and the visit care, a check sheet of big plants, the questionnaire, etc….
Android Application, Email Monitoring Application(EMA) for Windows PC, database(ACCESS) for data accumulation processing.
Even in the outside of network, You can input consecutively (You cannot input in web-system). And this application send emails with input-data to your PC at a stretch if you are in the valid range (It use the function of the mailer).
Even persons who do not like a keyboard can easily use this application. Because most input-systems of Application are Selecting-style.
The data which a PC received are updated for a database of ACCESS. And the processing of data is simple.
The interface of between EMA and Android Application is charged.
for Home Helper
input after working (You can input informations by Choices or voice.) and send…..
no need that you come back to the office and input
when you come back to the office, already working-report is completed.
you can use the input-data to other systems.
Please check all notice.
about Trial version(FREE) set
10/09/2014 You can use only EMA with pop mail server without SSL, sorry.
Read carefully, and please accept instructions of the manual.
We does not assume that you use 'EMA Trial version(FREE)' successively.
If you use 'EMA Trial version(FREE)', Please use ONLY our Android application for it.
Please use only 'accdb' which you downloaded from this page.
'EMA Trial version(FREE)' cannot use some functions in comparison with 'EMA Regular version(PAY)'.
This system-set have no encryption function. Please use no encryption mode only.
Only one person can use one 'EMA Trial version(FREE)' on a Windows PC. If you want to use with few persons, please buy EMA paid.
The user can change designs of report-form only. Please don't change without report-form. 'change' means 'change', 'delete', 'insert'.
Please use 'EMA Regular version(FREE) set' in a self-responsibility in all. and All remodeling of 'accdb' is a self-responsibility too.
We do not guarantee all and compensate all. We can only send new 'EMA Trial version(FREE)'.
We refer Your request of the remodeling for the version up.
Read carefully, and please accept instructions of the manual.
We cannot answer about Microsoft ACCESS.
Thank you.
Using environment to recommend
MicroSoft Windows Vista or 7
MicroSoft ACCESS 2007
other notices
"EMA' might delete all e-mails of own address. Please use an exclusive e-mail address.
Android application and 'EMA' can't use some special characters.(example:Escape sequence….)
User must maintain 'accdb' and e-mails.
User must back-up 'accdb' and others.
User must do all necessary input.
Even if any malfunction occurs during the use of this system, We only provide a system set of the initial state.
(We do not accept a guarantee of data and the compensation for damages.)
Thank you.
Download EMA Trial version(FREE) set
EMA2.0 Download Trial version(FREE) set(32bit version)